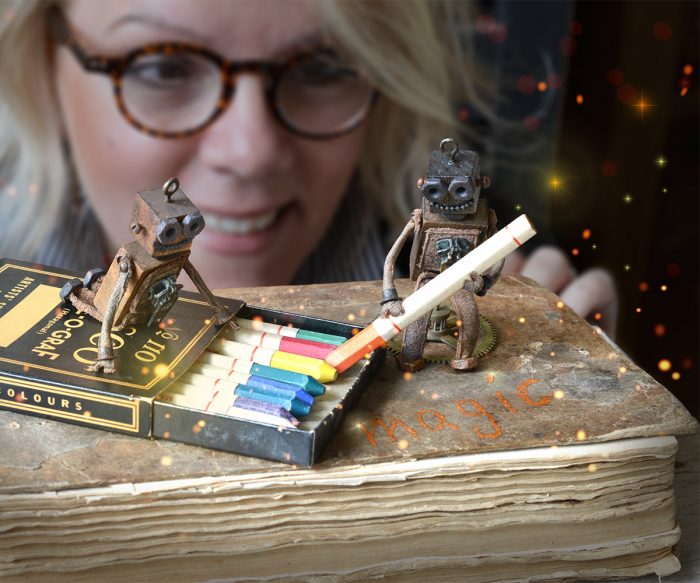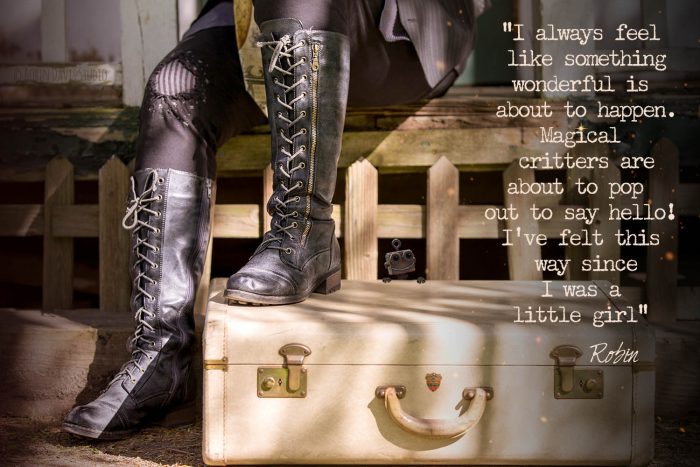 Robin Davis was born a creator and builder. While her artistic life may have started in a way familiar to most crayon-wielding preschoolers, her art has evolved to a place where she now claims it as her passion. Her professional career started with children's illustration and art licensing, but her current endeavors now have her immersed in various forms of upcycled art and 3D sculptures including her incredible found object robots built using reclaimed industrial items and rusty metal found objects.
"The day my son sat beside me in the studio and drew this doodle of a robot, at the age of three, changed the trajectory of my creative career."
Much of Robin's studio time is now dedicated to building retro styled robots, and other whimsical characters, using a variety of unique mediums including found object treasures, reclaimed wood, glass, leather, and many other vintage articles.
 It is with these aged upcycled characters where Robin has found her artistic home: "I'm in creative heaven. For years, my sketchbooks were filled with dreamt-up child like robots, birds wearing funky steam-punk top hats, and old world characters. It is here and now, as I make them come to life in my "laboratory," that I feel most awake as an artist and creator."
Robin places high-value on every component of her work, and no small piece is ever an after-thought: "I love rust and any item that is already rusty. Right away, it has a story to tell, a human history. It's part of the appeal for me; like how a weathered and worn toy looks well loved, as opposed to the cold veneer of a brand new shiny one."
Robin lives and loves in a small rural city outside Toronto Ontario, Canada, where she resides with her husband and teenage son – and many rusty friends.